The Devil's Mercedes: The Bizarre and Disturbing Adventures
of Hitler's Limousine in America.
(Thomas Dunne Books; Release date March 7, 2017)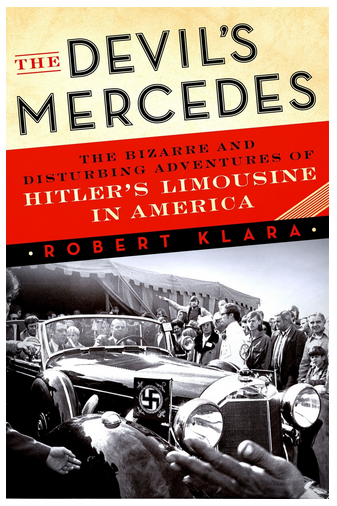 Purchase
In 1938, a special department within Mercedes-Benz began production of the largest, most luxurious limousine in the world. Twenty feet long, upholstered in glove leather, and entirely bullet-proof, the Grosser 770K was a sumptuous monster with a suitably monstrous patron: Adolph Hitler and the Nazi party.
Most of the 770Ks didn't make it out of the rubble of WWII. But several of them did. And two of them found their way, secretly and separately, to the United States.
In The Devil's Mercedes, author Robert Klara uncovers the forgotten story of how Americans responded to these rolling relics of fascism on their soil. The limousines made headlines, drew crowds, made fortunes and ruined lives. They also entangled the country in a game of intrigue and mistaken identity.
Nobody knew that the limousine touted as Hitler's had in fact never belonged to him, while the Mercedes shrugged off as an ordinary staff car—one later abandoned in a warehouse and sold off as government surplus—turned out to be none other than Hitler's personal automobile.
It would take 40 years, a cast of carnies and millionaires, the United States Army, and the sleuthing efforts of an obscure librarian in Canada to bring the entire truth to light.
As he recounts this remarkable drama, Klara probes the meaning of these haunting hulks and their power to attract, excite and disgust. Ultimately, The Devil's Mercedes isn't only the story of a rare and notorious car, but what it taught postwar America about itself.